Photograph of Zully Montero, Rubén Rabasa, and Juan Troya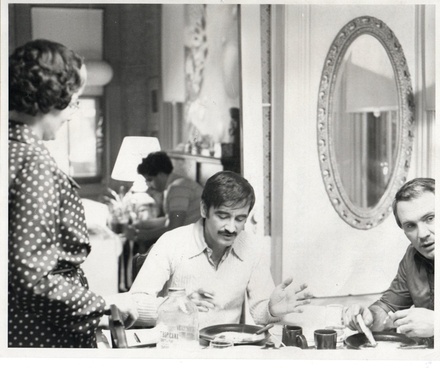 Notes:
A raíz del éxito de la obra teatral, EL SUPER, 1978, en el Centro Cultural Cubano de NY, una joven productora de la cadena WPBS NY, se nos acercó para producir un segmento de una obra corta, con un tema cubanoamericano, escrita por un autor cubano.
Todo se hizo a la carrera.
La joven productora era, DAISY EXPOSITO, el elenco: JUAN TROYA (E.P.D.), ZULLY MONTERO y RUBEN RABASA. El dramaturgo, OMAR TORRES, El director, IVAN ACOSTA.
Daisy armó un equipo profesional de PBS y en la residencia del conocido arquitecto, pintor y diseñador, cubano, LIC. JORGE HERNÁNDEZ PORTO, se filmó el segmento que duraría unos 15 minutos.
Otra historia para ser contada. (Iván Acosta)
Object details:
Physical object creator:

Physical object date:

1978

Physical object city:

New York, New York, United States

Physical object type:

Photographs

Digital object format:

Image

Object ID:

cta0037000137

Collection:

Iván Acosta Digital Collection

License:
Related items:
Creators: