Handwritten note by María Irene Fornés: Where do they come from? Flies in my apartment.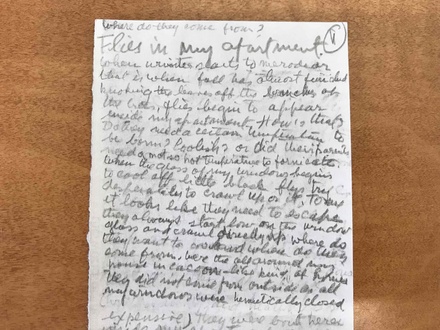 Notes:
Image taken with a phone. Professional scan will come later.
Transcription:
Where do they come from? Flies in my apartment
When writer starts to merodear, that is, when fall has almost finished knocking the leaves off the branches of the trees, flies begin to appear inside my apartment. How's that? Do they need a certain temperature to be born? Coolish? Or did their parents need a not so hot temperature to fornicate? When the glass of my windows begins to cool off little black flies try desperately to crawl up on it. To me, it looks like they need to escape. They always start low on the window glass and crawl directly up where do they want to go and where do they come from? Were they all around my house in cocoon-like kind of houses? They did not come from the outside as all my windows were hermetically closed [erased] expensive) they were both here inside my apartment. They have a right to be here more than I do. That is obvious because there is no way they could come from outside because my windows are shut. They come from inside my place. They were both there and they belong there more than I do. They are not possessive; they don't treat me like a stranger. They behave as if I'm as much a part of the place as they are. When I go after them to swat them dead, they don't even hurry to get away. I don't know how they got there. I think something about my place engendered them, or enough of them maybe two enough to start a race or mankind There's something in my papers, there is enough of them or it could be my sheets. Do I wash them often enough? I hardly ever change them. If I bathe before I go to bed they take forever to look soiled. Maybe I assume that soil should be seen and others don't. Others may just think it's time and they do it, see the dirt or not, they know the dirt is there. Once a week? twice a week? Everyday? I hardly ever come to get / I hardly ever change them (superimposed lines).
Object details:
Physical object city:

New York, New York, United States

Physical object type:

Handwritten note

Digital object format:

Image

Object ID:

chc5507000001

Collection:

María Irene Fornes Papers

Rights holders:

María Irene Fornés

License:
Related items:
Creators: