Program for the first North American Brigade of Cultural Workers to Cuba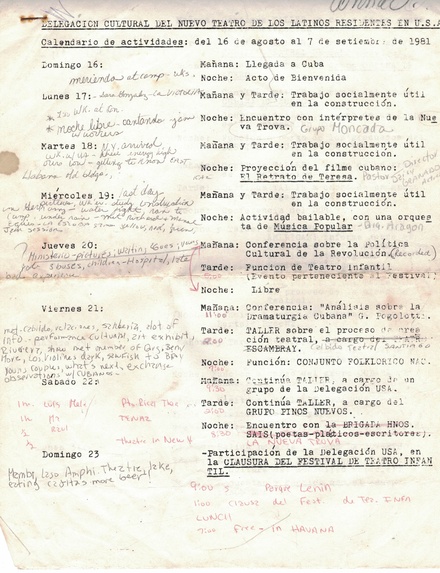 The East Coast-West Coast Teatro Brigade was a volunteer brigade from the United States in support of the Cuban Revolution. They visited Cuba for three-week August 16 to September 7, 1981. The visit was organized by the Ministry of Culture, along with the Latinx theater groups Teatro de la Esperanza and Teatro 4. The itinerary for the tour included the visitors taking part in construction campaigns, conferences, and visiting sites of economic and cultural importance, among other activities. The images show the itinerary followed by the group.
Notes:
Notes handwritten by Ana Olivarez.
Object details:
Physical object date:

August 1981

Physical object city:

Havana, Cuba

Physical object type:

Program

Digital object format:

Image

Object ID:

cta0057000043

Collection:

Ana Olivarez-Levinson Digital Collection

Rights holders:

Ana Olivarez

License:
Related items:
Creators: