Photograph of Caridad Svich, New York, 2012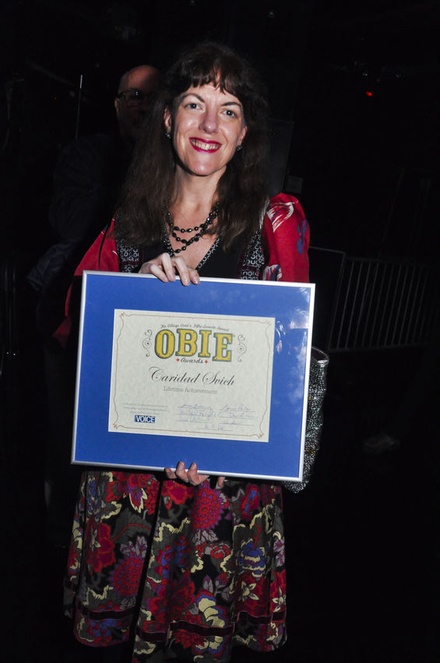 Notes:
José Rivera wrote the OBIE citation and it was presented by Michael McKean:
And now our final award of the evening. Certain artists see borders and stop at them. Others see borders as an opportunity for transcendence. Few artists can claim to have crossed so many boundaries at birth: Cuba, Argentina, Spain, and Croatia. Few have created so many bodies of work in so many disciplines: playwriting, songwriting, essay writing, teaching, translation, reviewing, editing, and mentoring. For her prodigious output as one of America's most daring and provocative Latina writers, for her indefatigable energy, for her selfless and consistent advocacy of artists of all backgrounds, for her dizzying array of intellectual interests and pursuits—yes, for the very poetry that is her life's energy—the judges are proud to give this year's Lifetime Achievement Award to a nomad, a storyteller, and a true woman of the theater: CARIDAD SVICH.
You can view her acceptance speech here.
Object details:
Physical object date:

2012

Physical object city:

New York, New York, United States

Physical object type:

Photographs

Digital object format:

Image

Object ID:

cta0029000076

Collection:

Theater Ephemera Digital Collection

Rights holders:

Emily Tan (villagevoice.com)

License:
Related items:
Creators: