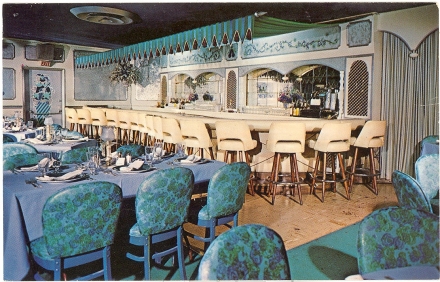 Bought and remodeled by Lalito Castro and Manolo Godinez, this restaurant hired in the 1960s many Cuban stars whose first job in exile was as singing waiter or waitress in this "let-it-all-hang-out Las Vegas-style review from Havana in the old days" (Sun Sentinel's Robert Tolf).
It was bombed May 26, 1968 by Cuban Power.
HBO Hispanic comedy show, Mambo Jambo, shot its pilot show here in 1992.
It was bought as a long-term investment by retired orthopedic surgeon, Dr. Barry Silverman. ("Omni Area Enjoying Revival Spurred by Genting," mc2 realty market blog, Sept 14, 2011.)
Notes:
Image courtesy of Florida Postcards from the Past
Object details:
Physical object date:

1966

Physical object type:

Postcards

Digital object format:

Image

Object ID:

cta0029000019

Collection:

Theater Ephemera Digital Collection

License:
Related items:
Venues: