Playbill for the production, "Esta noche serás mía"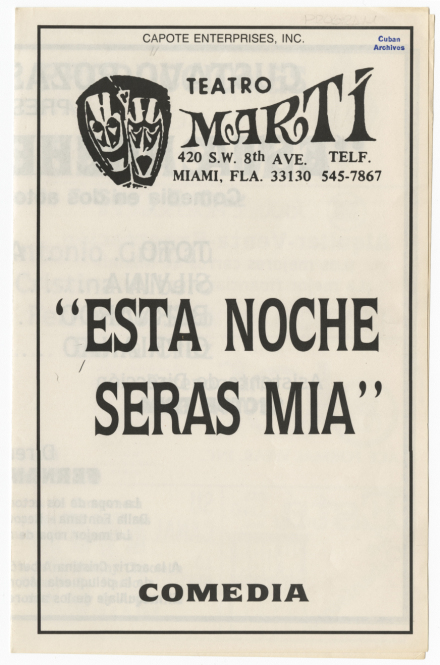 In 1967 Ernesto Capote, head light technician in Havana's Tropicana from 1950 to 1961, transformed a former boxing arena into Teatro Martí. The building was located between 400 and 430 SW 8th Avenue and it was known as the Circuito Cineteatral Capote (CCC). It is recognized as the meeting place for the first generation of Cuban exiles in the U.S, and as one of the rare places in which they could find work.
"Soy como los artistas que no pueden estar sin el escenario. Como toda la vida estuve en el giro del espectáculo tenía que seguir en eso. El dueño del Flamenco, Pepe Currais, ya fallecido, me ayudó mucho. Un día me ofreció dinero para abrir el Martí, pero le pedí que en lugar de eso, entrara en el negocio conmigo, si se perdía dinero lo perdía él. Asi lo hicimos. Todo el mundo me ayudaba. La gente del Flamenco venia a tumbar paredes, compramos las butacas en un lugar debajo de un expressway, las reparamos, las pintamos, aquello era como un fervor patriótico" (in Norma Niurka, "Ernesto Capote: una vida como empresario." El Nuevo Herald, Friday, September 18, 1987, Galería p. 9).
The first theatre had 1200 seats. In the early 70s, he divided it into two spaces, Martí I and Martí II. Martí III was only a movie theater. Martí IV and Martí V were only theaters; they were formerly called La Comedia. The building also housed a television and a radio station. ((Evora, José Antonio. "Con el Teatro Martí, desaparece un ícono de Miami." El Nuevo Herald. June 17, 2006, 1A.)
By 1988, the complex is having financial difficulties. In July 1989, it receives fines for 16 counts of code violations from the fire department. It needed $200,000 to resolve the violation issues and $300,000 to remodel. In 1990, Miami city commissioners promised Capote to give him a $500,000 loan at 2% interest. In 1998, the complex's ownership title passes to the city of Miami and in 2006 the complex is demolished in order to build a low-income housing condominium.
Notes:
Production title: Esta noche serás mía Directed by Fernando Siro Coverage (temporal): 1960-1980 Coverage (spatial): Miami (Florida)
Object details:
Physical object type:

Playbills

Digital object format:

Image

Object ID:

chc5160000012

Collection:

Theater Ephemera Collection

License:
Related items:
Creators:
Productions:
Venues: