Cecilia Dighero (with mask), Manuel Yesckas, Gloria Zelaya and Edwin Avila in the theatrical production, Rasputin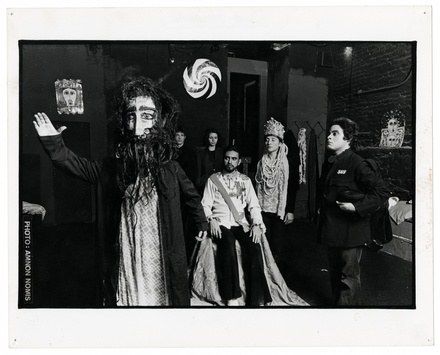 Photograph of Rasputin (Cecilia Dighero) on left wearing a large mask, which represents Rasputin. Also in the photograph from left right in the front are the Czar of Russia (Manuel Yesckas) and his wife (Gloria Zelaya) along with various servants (Edwin Avila in front, Roberto Lopez and Virginia Arrea in back).
Notes:
On verso: "DUO Theatre. Obra: Rasputin. Versiones en Ingels y Espanol. Autor: Manuel Martin. Director: Manuel Martin. Estreno: Mayo 1975. Fondo: Roberto Lopez y Virginia Arrea. Frente de Izq. a Derecha: Cecilia Dighero (con mascara), Manuel Yesckas, Gloria Zelaya, y Edwin Avila."
Object details:
Physical object date:

May 1975

Physical object city:

New York, New York, United States

Physical object type:

Photographs

Digital object format:

Image

Object ID:

chc5064000026

Collection:

Manuel Martín, Jr. Papers

License:
Related items:
Creators:
Productions:
Written works: